.
Field Guide to the Pitcher Plants of Borneo
by Stewart McPherson and Alastair Robinson, follows in the series of pitcher plant field guides. This spectacular 100 page guide includes 120 unique, never before published images depicting all thirty nine known Bornean Nepenthes, including the little known N. appendiculata, N. baramensis, and N. epiphytica.
Field Guide to the Pitcher Plants of the Borneo is a lavishly illustrated overview of the thirty nine species of Bornean pitcher plants (Nepenthes). Several species featured in this work have been discovered extremely recently, and the images included in this work are among the first to be published.
This visually beautiful guide book consists of a short introduction to Nepenthes, followed by an overview of the species known from Borneo (complete with full page map). Each species is then profiled over two pages with the use of three images (most of which have never been published before) and a brief, but detailed text summary written in clear, easy-to-understand English. Concluding sections cover Nepenthes hybrids, conservation of Bornean pitcher plants, Bibliography, Index and About the Authors.
The species documented in this work are: N. albomarginata, N. ampullaria, N. appendiculata, N. baramensis, N. bicalcarata, N. boschiana, N. burbidgeae, N. campanulata, N. chaniana, N. clipeata, N. edwardsiana, N. ephippiata, N. epiphytica, N. faizaliana, N. fusca, N. glandulifera, N. gracilis, N. hirsuta, N. hispida, N. hurrelliana, N. lowii, N. macrophylla, N. macrovulgaris, N. mapuluensis, N. mirabilis, N. mollis, N. muluensis, N. murudensis, N. northiana, N. pilosa, N. platychila, N. rafflesiana, N. rajah, N. reinwardtiana, N. stenophylla, N. tentaculata, N. veitchii, N. villosa, N. vogelii
Signed copies bear the signature of Stewart McPherson handwritten in silver ink on the inside cover.
ISBN: 978-1-908787-03-3
Australian Carnivorous Plants,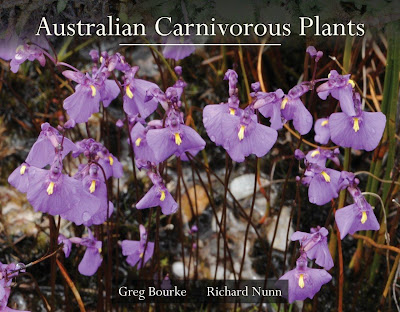 by Greg Bourke and Richard Nunn is a beautifully produced coffee table book with extensive colour photographs of all carnivorous plant genera found in Australia  (Aldrovanda, Byblis,  Cephalotus,  Drosera,  Nepenthes and Utricularia). Incorporating 180 images of over 150 species taken over the past two decades by acclaimed wildlife photographers and carnivorous plant experts, Greg Bourke and Richard Nunn, this visually striking book is the first work dedicated to highlighting the beauty of Australian carnivorous plants in the wild through high quality photographs.
The selection of breathtaking images featured in this lavishly illustrated work was carefully chosen to highlight the extraordinary diversity of carnivorous plants found in Australia, an assemblage that is greater than on all other continents on Earth. The spectacular images and detailed captions, written in accessible English, offer a uniquely informative portrait of some of the Southern Hemisphere's most extraordinary and beautiful plants. It is a work that will fascinate amateur nature enthusiasts and specialist botanists alike. This beautiful book includes a foreword by Allen Lowrie, a world authority on carnivorous plants; a short introductory chapter to the carnivorous plants of the world with a summary and complete listing of all carnivorous plant species found in Australia; chapters dedicated to each genus of Australian carnivorous plant with introductory descriptions; a chapter on conservation; and information relating to the photographic techniques used by the authors. Many of the taxa covered here have never been depicted in print before.
Particular highlights include:
 The first complete listing of all currently known carnivorous plants of Australia.
Many rare, little known and seldom photographed taxa, including Byblis aquatica, B. rorida,Drosera browniana, D. bulbosa subsp. major, D. gibsonii, D. nivea, D. oreopodion, D. radicans, D. zigzagia, Utricularia circumvoluta, U. leptoryncha, U. paulineae, U. singeriana, and many more…
ISBN: 978-1-908787-02-6
Aldrovanda The Waterwheel Plant,
by Adam Cross. The first comprehensive monograph of Aldrovanda, the rare and extraordinary carnivorous "Waterwheel Plant". This incredible carnivore, known for trapping aquatic prey between jaw-like lobes that dramatically snap shut when triggered, is related to the famous Venus Flytrap and employs one of the fastest movement responses known in the plant kingdom. Not only arthropods are caught in its deadly jaws, but even small vertebrates including tadpoles and fish fry.
Representing over four years of study and research, this long-awaited work presents a pioneering and uniquely detailed treatment of all aspects of the botanical history, ecology, evolutionary history, distribution and cultivation of this novel plant. The text also addresses the pressing need for integrated conservation and management initiatives.
Among the many highlights of this work are:
Spectacular imagery of Aldrovanda, including scanning electron microscopy, histological sections, and many previously unpublished photos of the plant throughout its worldwide habitat
The formal description of a new infraspecific taxon of Aldrovanda.
The most definitive guide to cultivating this unique species ever published
The inclusion of new and previously unpublished data relating to key aspects of the plant's reproduction, dispersal and ecology
and much more….
ISBN: 978-1-908787-04-0